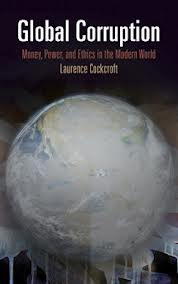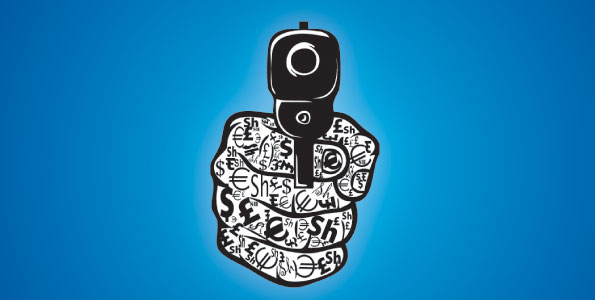 Global nature of corruption and the futile war against it
A 270-page book, Global Corruption: Money, Power and Ethics in the Modern World, written by Laurence Cockcroft and published by L.B. Tauris late last year, analyses the causes of corruption, its current characteristics and trends, and its threat to the poor and overall economic growth.
Highlights the limitations and dangers that individual prosecutors and heads of anti-corruption agencies face in the anti-graft drive around the world
According Cockcroft, political funding is probably the largest single driver of large-scale corruption
In its Corruption Perceptions Index 2012 report, Transparency International observes that corruption is a major threat facing humanity
COMBATING CORRUPTION: Corruption threatens freedom and economic growth around the world (Book Review)
WAGING WAR ON CORRUPTION: Push back the envelope - Review by John Plender The fight against corruption in business and government is never-ending but there are reasons for optimism
Published September 16, 2012

Never before has the call for good governance been greater. The Arab Spring in early 2011 has inspired people all over the world to fight to end the abuse of power by politicians and civic officials and create more transparent, accountable, and honest governments. In Waging War on Corruption: Inside the Movement Fighting the Abuse of Power, Frank Vogl, one of the leaders of the worldwide anticorruption movement, shares a history filled with stories of heroes and victims of corruption. He chronicles the successful campaigns by enormously courageous civil society activists, journalists, and public prosecutors and explains the crucial challenges that now must be confronted. At stake is nothing less than our global security, the reduction of poverty, the stability of our economic and financial systems, and the cause of freedom and democracy. Waging War on Corruption will be of interest to readers of politics and government, business, human rights, and law.
Author Frank Vogl's website here.

6 Famous Whistleblowers: Books About Small Heroes Who Exposed Big Corruption

These stories of corporate whistleblowers will shock you with the corruption they reveal and amaze you with the heroism of an outnumbered, but vocal, few:

Worldcom: Multibillion-Dollar Fraud
Enron: The Smartest Woman in the Room
Pfizer: Corruption Behind the Counter
Brown & Williamson: Tobacco Chief Unearths a Smoking Gun
NYPD: Cop, Uncorrupted
Madoff: The Disastrous Ponzi Scheme That Could Have Been Stopped Sooner

Corruption, Crime and Compliance

By Michael Volkov

Michael Volkov's career has spanned 30 years as an attorney in Washington, D.C. − as a federal prosecutor, a Chief Counsel on the Senate and House Judiciary Committees, a trial attorney in the Antitrust Division and in private practice. This book will help anyone better understand anti-bribery compliance in the U.S. and beyond.

"Michael Volkov's book is a compilation of articles on a number of subjects important to lawyers advising clients how to stay out of trouble. He is a prolific writer and I can say without question, we have not heard the last of his musings. Simply put, his book contains important information that should prove helpful to lawyers, particularly to those who practice in the white collar field."

- Judge Stanley Sporkin, Former Director of the Division of Enforcement, U.S. Securities and Exchange Commission.
University at Buffalo professor examines Madoff scandal
By perpetuating the largest financial fraud in American history, the name Bernie Madoff has become synonymous with the term Ponzi scheme. Along with a handful of co-conspirators, Madoff stole an estimated $18 billion from individuals and entities who believed their money was legitimately invested. "Con Game: Bernie Madoff and his Victims," a new book from Lionel Lewis, professor emeritus of sociology at the University at Buffalo, examines those who lost so much through the sleight of Madoff's hands.